Wine Tasting in South Australia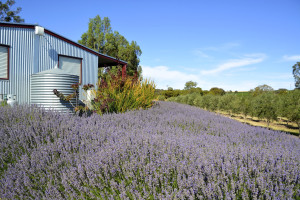 A short flight from Sydney took us to Adelaide in South Australia, which is surrounded by some of Australia's most famous wine regions. We had two goals: taste some good wine and spot kangaroos, which had been in remarkably short supply on the streets of Sydney. We started our mission in Clare Valley, a region known for producing good Riesling, a couple of hours drive north of Adelaide. Clare Valley actually consists of a few narrow valleys stretching approximately 35km from north to south, with a couple of small towns spread out along the main road. The place feels very rural and quaint, even somewhat isolated. The nooks and crannies of the valley sport a very wide range of soil types and micro climates, and can therefore support many different grape varieties. Everything from Riesling to Shiraz as well as Bordeaux varieties are grown. Parallel with the main road through the valley is a bike path, called the Riesling Trail, that traces the old rail road track for about 35km, allowing visitors to leisurely ride bikes from winery to winery. This seemed like a great idea so we rented a couple of bikes with a trailer for the kids, excited to combine wine tasting with some exercise. We had tried to do better research about which wineries to visit this time than we did in South Africa, not only consulting the internet, but also asking friends back home for recommendations. We ended up following, with a few exceptions, a list of recommended wineries from a friend back in Los Angeles.
The first winery we stopped at after a couple of hours of slight uphill and strong head wind was Kilikanoon, a relatively new winery (founded in 1997) whose wines we had tried and liked on a few occasions. James Halliday, Australia's Robert Parker, apparently likes their wines too, as Kilikanoon was named his winery of the year in 2013. They offered a few Rieslings that were light, crisp, citrusy and very tasty. We also liked their mid-range Shirazes and Shiraz-Grenache-Mataro (Mataro = Mourvèdre) blends that were rich, juicy, and spicy, but maintained balance and a degree of elegance. We did not have time to analyze and contemplate the wines for too long, as the kids without much warning started acting as if they were about to starve to death. We quickly bought a couple of bottles and pedaled on to a lunch spot, where we were introduced to the wide array of meat pies and pastries available throughout Australia. After lunch, we continued on to Jim Barry, an older winery (founded in 1959) located in the far north of Clare Valley. They offered a rather interesting lineup of wines, including a few older vintages and a couple of really good Cabernet Sauvignon-based wines made from grapes grown in the cooler Coonawarra region much further south, close to the border with Victoria. We especially liked their 2005 The Florita Riesling that showcased how a Clare Valley Riesling can improve after a few years in bottle. It had developed much deeper flavors of nectarines, honey, smoke, and that classic rubber or petrol note on the nose that is so characteristic of mature Riesling. We had heard a lot about their flagship Shiraz called The Armagh, and we did get to try it, but unfortunately we were given such a small amount to taste that it was practically impossible to get more than a vague idea of what a fantastic wine this might be. We would have felt weird asking for a second pour of the most expensive wine of the tasting, especially as we were the last visitors and they were about to close up shop, so we followed the golden pre-school rule that we have learned from the kids: "you get what you get and you don't get upset", and we called it a day.
Further south lies the oldest and most famous of Australia's wine regions: Barossa Valley, which is truly the Napa Valley of OZ. This is the home of some of the most famous Australian wine producers, such as Penfolds, Peter Lehmann, and Henschke. It is three times the size of Clare Valley, and it has large areas planted with very old ungrafted Shiraz vines, in many cases more than 100 years old. These old vines, with deep roots that enable them to withstand the hot and dry summers of this region, are key to the complexity and age-worthiness of the best Barossa wines. Equally important is the climate: as mentioned, it is very hot and dry but nights are cooler than other wine regions in the area, which give the grapes higher acid levels yielding fresher, more balanced wines. We opted to explore the Barossa by car instead of bike, in order to hopefully hit a few more wineries than we visited in Clare Valley. We started with one of the classics, Henschke, which I am not sure if it is technically in Barossa or in neighboring Eden Valley. Either way, they are producing some stunning wines. As we drove in on the gravel road that leads to the winery, with rows of vines at each side, Alexis all of a sudden yelled "KANGAROO! KANGAROO!!". I looked over and saw not one, but two kangaroos hanging out between the vines in Henscke's vineyard. We were lucky that I was driving because Alexis got so excited that she surely would have driven off the road. I managed to stop the car so that we could document the miracle. (We later saw many more kangaroos in the evenings along he freeway, but these two were the only ones we saw in daylight.) We eventually continued on to Henschke's cellar door (Australian for tasting room), but no wine could top the kangaroo sighting. Henschke is one of the older wineries in the area, founded in 1862 by a German immigrant and currently managed by the fifth generation of Henschkes. It is a highly regarded producer, their wines routinely receive very good reviews both within Australia and internationally. Their top cuvée, the single-vineyard "Hill of Grace" Shiraz, is considered one of the top two or three wines made in Australia, but at $600 per bottle they were not pouring this for free to the tourists. We were quite impressed with their more humble bottlings: a couple of light and crisp Rieslings and other whites, some really nice Shirazes and a surprisingly good Pinot Noir that was light and well balanced with very pretty red berry and flowery notes, not that far off from a village-level Burgundy. Henschke even had a small play area and a box of toys for the kids, allowing us a more relaxed tasting.
We continued on to Rockford, a small, family-owned winery that makes wine the way it has traditionally been done for generations in Barossa Valley. The winery and cellar door is housed in a beautiful courtyard-shaped stone and brick building from the 1850s. The place looked welcoming and quaint, with a couple of trees right outside the cellar door that were perfect for climbing. They had some pretty good whites and reds, including some odd ones made from unusual grapes like Frontignac and Alicante Bouchet, but the reason we were here was their legendary sparkling Shiraz called the Black Shiraz. This wine is blended from several old Shiraz wines from different vintages that have been aged in oak barrels to gain complexity and to soften the tannins. After the blending is done, the wine is bottled and made sparkling through a second fermentation, following the traditional Champagne method. The resulting wine tastes like no other wine that I've had before. It has a very complex and elegant bouquet reminiscent of a well aged regular Shiraz, but the flavor is very different. It is rich but has rather soft tannins and a hint of sweetness from the dosage, balanced beautifully by the creamy mousse. Definitely a unique wine.
After a lunch stop and some R&R at a playground, we moved on to Two Hands, a relatively new producer that has received a lot of press and good reviews recently. I first tried one of their wines in 2002, a very good wine that was simply called "Two Hands Shiraz" but they have since expanded and now make more than 20 different bottlings from all over South Australia in very different price ranges. Their entry level wines, called the picture series, are well made wines, but with names like "Sexy Beast, and "Gnarly Dudes" and artsy labels they feel a little bit gimmicky. Next step up is the garden series, in the $50 range, consisting of six different wines from different areas of South Australia. These wines have won many awards and have consistently been featured in Wine Spectator's annual Top 100 wines. The wines available for tasting were from the 2011 vintage, which was allegedly a very difficult vintage. They were good but not great, but perhaps good for the vintage? I was lucky that they had a couple of more expensive bottles open that are normally not offered for tasting. My favorite was the 2011 Secret Block Single Vineyard Shiraz, which was rich and dark, but also displayed depth and real complexity.
The last place we visited in Barossa ended up being our favorite: Torbreck, founded by and until recently run by Dave Powell who was once the winemaker at Rockford. Torbreck offers a wide range of wines based on the classic Rhône varieties Syrah, Grenache, Mataro/Mourvèdre for the reds, and Viognier, Roussanne, and Marsanne for the whites. They have over the years specialized in finding old, sometimes abandoned vineyards with very old vines and then bringing these ancient vines back to life together with the land owner. In the hands of the talented winemaking team at Torbreck, these old, dry vineyards with 100+ year old vines produce some amazing wines. They offered several different Shirazes and blends from different vineyards, and they also have a 100% Mataro and a 100% Grenache. These wines were a real step up in complexity and structure compared to almost everything else we tasted. All the dark, sweet Barossa fruit is there on the entry, it is followed by a solid, structured mid-palate and a savory, mouthwatering finish. Clearly Australian wines, but with a nod to France's Rhône valley. They also offer for purchase, not for tasting, what must be Australia's most expensive wine: a single-vineyard Shiraz called "The Laird" for a cool $900 per bottle.
We were anxious to get out to the coast (we would have been more relaxed had we seen the surf forecast—there were no waves to be had), but we stopped quickly at a couple of wineries in McLaren Vale on our way south. Not quite as famous as Barossa, and the wines are generally not as long-lived, but McLaren Vale is actually where the first vines were planted in South Australia in 1838. Being closer to Adelaide it is unfortunately about to be consumed by the city's expanding suburbs and is not as picturesque as the wine valleys further north. It produces some really good wines nonetheless. One of the most well known producers is d'Arenberg, who makes a wide range of whites, reds, a couple of sweet and fortified wines, and even a sparkler. The sparkling wine, made in traditional Champagne style from the three traditional Champagne grapes (Chardonnay, Pinot Noir, Pinot Meunier), was one of our favorites. We also liked the 2009 Dead Arm Shiraz which is a big, intense wine with lots of dark, sweet fruit flavors, and the 100% Mataro called "The Twenty-eight Road", also big and rich but showing the distinct meatiness of Mataro (although not quite as feral as Bandol, the classic 100% Mourvèdre of Provence). We wanted to get started on our long drive towards the Great Ocean Road and Melbourne, so after a quick lunch in McLaren Vale's small town center we packed all our newly purchased wine at the bottom of our bags to protect them from the heat, hooked the kids into their iPads, and left South Australia's wine country behind us, already looking forward to some good Pinot Noirs in New Zealand.