The Twelve Apostles and a Plague of Flies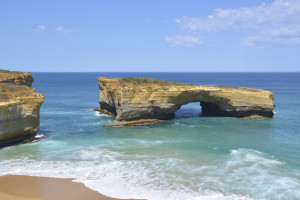 After months of tuk-tuks, taxis, and public transportation, we embraced the freedom of hitting the open road in a spacious SUV to drive from Adelaide back to Sydney. We mapped out our route as we went, one day at a time, but had intentions of taking in the Great Ocean Road, the (surfing) world famous Bells Beach, and Staffan's old home as an exchange student, Wollongong (aka The Gong). Although many of our destinations on the round-the-world trip were visited in shoulder seasons, we were smack in the middle of Australia's summer, so we got to experience throngs of people and hotels with both peak-season tripled rates and innumerable 'No Vacancy' signs! We were also treated to the upsides of school break: carnivals in almost every town. We all had a great time of it (Alexis in particular adores carnival rides). We readily downgraded to two star motels and even a few trailer parks, finding that in this area of the country, many offered amazing ocean views, and not to mention that every single motel manager we encountered was in great spirits and supremely helpful.
Our first destination was Coorong National Park, described in literature as a fecund lagoon landscape, with a series of soaks and salt pans, separated from the ocean by the Younghusband Peninsula. It stank of sulfur and earthly secretions, but the vistas were a gorgeous, calming grey with glistening pools of white salt and shimmery blue waters. The drive went on and on for hundreds of kilometers without much change in scenery. Both Staffan and I were reminded of Alligator Alley in Florida, the stretch of highway from Tampa down to Miami where the scenery barely changes but your mind fills with images of orchid thieves and lecherous crimes left undiscovered in the boils of the vast swamp. This region of Australia looks quite a bit different, but somehow both of our minds independently converged on this similarity. Probably not a coincidence. We were happy to break through from South Australia to the state of Victoria, finding a stand up motel in Warrnambool, an old fishing village that has turned itself into a hotspot for whale watching as the southern right whales migrate by its waters each spring. It was good enough for us to get a solid night's sleep in a coral-colored motel room, complete with matching coral towels, linens, sink basins and linoleum… so there was something to the Florida reference after all.
Just south of town, where the Prince's highway meets the B100, Australia's Great Ocean Road begins. It is a 430km stretch of highway that hugs the coast, chock full of scenic turn outs, short walks, lighthouses, and secluded beach coves. The road's attractions are both natural and manmade. The limestone cliffs have worn down over the years, forming natural arches, inlets, bays of islands, and its most photographed landmark, The Twelve Apostles. The manmade attractions are the sleepy beach towns of Apollo Bay, Lorne, Aireys Inlet, and another 11 or so small towns that vary from a population of ~100 to 1500, with each town offering a distinct seaside personality. We found great surf for the entire family along this stretch: the water was warm enough to swim in sans wetsuit, and crystal clear. We also were treated to a grove of eucalyptus trees where we spotted a Koala in the canopy, along with brightly colored native birds.
Now for the truth. The Great Ocean Road was dreadful. No one mentions the plague of large, black flies that invade the region each summer. In order to see the sights, one has to take a deep breath and run from the car, hands waving before you. If we stopped to take a picture, we had to use sport mode on the camera to try to catch our faces without black spots. The flies are parched, and will land on any patch of exposed skin to drink one's sweat. A few clever people sported nets draped from their hats, but 99.9% of the tourist masses were exposed, irritated, and nominally disgusted by the swarms. The kids cried and begged not to have to leave the car. I found myself describing a scene from The Amityville Horror (a 1979 horror flick, and a staple of my nightmares), wherein Father Delaney was attacked by black flies. Apparently young children in Sweden were spared from horror films, and as such Staffan could not relate. I can only imagine how much more beautiful and relaxing the sights would have been free from pests.
As we drove eastward, the number of flies exponentially decayed. We were able to find stretches of beach where the kids could play, and even take a few coastal walks to visit some of the many lighthouses. Our final stop was Wollongong, where Staffan spent a year as an exchange student during University. It was cool to see this as I have heard so many stories from the time. We checked out the town, surfed his local break, and explained to the kids that there was a time for each of us before we met each other, when we lived separate lives. North of Wollongong is the Grand Pacific Drive, also beautiful with sections of the highway that are built jetting out from the cliffs, suspended over the rocky ocean pools below. We hot tailed it from there back into Sydney to spend a little more time at the city's iconic and fly-free beaches before moving on to New Zealand.