The Velveteen Rabbit in the Killing Fields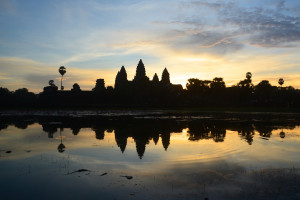 Last night, I read The Velveteen Rabbit to the kids. It had particular impact since they each still have a dear stuffed animal to whom they cling at night or when upset. Woof is a white stuffed dog with sad, brown eyes who was given to Phineas by Mia, his paternal grandmother. Phineas caresses the tips of her clumped fur with his fingertips as he falls asleep. She is the first thing he reaches for when awaking from slumber, his small hands groping in the dark to strum the soft spot of fur left under her tail. Woofa is a lion, by now dingy and grey from dirt that cannot be washed away, whom we gave to Eilir on her 3rd day. He is stuffed with a heavier sand, and can be pulled long across her eyes when sleeping, lying prostrate across her head or neck, but never out of touch. Both animals remind me of my own two most important childhood securities. Benji was a white dog with brown spots who was lost at the Miller Elementary School in Wilton, CT when touring Monica's first grade classroom. I remember leaving him on a gigantic empty spool that was decoration in the main atrium. I remember driving back in the summer rain to retrieve him, banging on the glass doors after hours, to no avail. Nairobi, a lion who was to replace Benji, was given to me by my father as he returned from a business trip to Arizona circa 1979. When I think of childhood, the stories of these soft things immediately come to mind, conjuring the feelings of my first lost love and its replacement. I don't know if The Velveteen Rabbit was the trigger, or my thoughts visiting my father, but as I slept through the night I dreamed I was at Angkor Wat, racing through the ruins, chasing Woof and Woofa, trying to bring them back to Phineas and Eilir before they awoke to empty arms. I emerged from sleep realizing it was just a dream but sunk back in against my will as though in quicksand. I found myself again walking among the ruins, searching in vain for the stuffed animals, only to spy their faces chiseled where the smiling buddhas should have been, on the tops of towers overseeing the overgrown jungle below.
Returning to Angkor Wat I confront the loss of my father. It was here that I came in 2004, only a few weeks after his sudden death, and found some peace. It was here that I let him go. He was with me from the moment he died, awakening Staffan and me in the middle of the night with an eerie feeling that someone was with us in our motel room in Morro Bay. He rode with me in the Subaru over the Camarillo pass where our early morning phone calls would always break up due to poor reception, and back down into the San Fernando Valley to work. I could feel him present through the world series to see the Red Sox finally win. After that, I don't know precisely when I lost him, but I remember letting him go. I was on a business trip to Thailand with Near and Yu-Heng, sizing up Fabrinet and visiting potential contract manufacturers in mainland China, when I took a detour weekend trip to Siem Reap on my own. At the time, Cambodia's borders had only been opened to tourism for 10 or so years, there were no ATMs, scarce acceptance of credit cards, and I had not thought to bring sufficient US dollars to exchange. With what I had, I managed to lose myself to the temples, roaming through them from dawn till dusk. I remember sweat trickling from my forehead as though from a loose faucet in the heat. I walked my way past the hunger that gnawed at me, unable to afford a lunch. When the sun set, most of the tour groups had long boarded their busses to return to air conditioned havens in the town. I returned to the main temple of Angkor Wat and found a quiet corner atop a steep set of stairs. I remember talking for quite a while to a young monk, but not the content of our discussion, only that at first I was uncomfortable but that soon it passed into a long and easy conversation. After he left, I leaned back against some ancient carvings, and with a breath let go.
This trip has been about connecting—as a family both present and passed, and with the human condition in general. In our travels, we have sought to confront ourselves with the normal, everyday lives of the locals, as well as learn the history and culture of each country or region. In the evenings, we discuss with the kids what we saw, how it was different from what we've known in the US or in Sweden, and even more importantly, what is the same. Most of the time, all we can find is a sanitized, traveller-friendly version, similar to how the spices are watered down in restaurants for foreigners. Every once in a while we get a glimpse into the reality of living in a developing-world country, and it is usually raw and heart-wrenching. Cambodia's reality is much more accessible to the visitor, in part due to how recent the atrocities of the Khmer Rouge era are. Most people one encounters as taxi drivers, hotel managers, or restaurateurs were young through the most terrible period (1975-1979) but grew up with parents whose entire world was shattered as a quarter of the population was slaughtered to prevent organized opposition. At many a street corner, one can find those maimed by landmines, limbs lost fighting the Khmer rouge, selling memoirs of the killing fields or offering small souvenirs for spare change. The country publicly acknowledges and mourns its recent history. Absorbing all this made my own losses seem so small, insignificant in the face of those who lost entire families, fought famine, and had the resilience to continue fighting to re-build current day Cambodia.
The cyclical nature of the world can alternately drown me in monotony and give me immense relief, almost joy. I find patterns in just about everything, through which I develop a sense of connection to things intimate and foreign alike. It is the occasional experience of sensing beauty that allows me to derive meaning from what can sometimes feel like a transactional existence. The recognition of beauty can creep up on you, slowly washing over you like an incoming tide, or it can catch you in a moment, piercing through banality to lend precision and clarity. It is found in both connections made and connections lost, but for me it is always presents itself as an understanding, leading to a knowledge of oneself. Wandering through Angkor Wat in 2013 I am reconstructing a past event, monumental to me but insignificant to others. Of all the places we intended to visit on our trip, this was the place I most wanted to show Staffan and the kids. We spent seven days exploring the tree-mangled ruins in various combinations as a family and alone. Having reached our destination, it became painfully obvious that it was a part of me rather than a place I wanted to share, but one that is largely inaccessible due to the day to day focus of our lives. I felt so human in that need, the desire to share my experience, my loss, and be known to those closest to me. But how does one share a memory that was created by a lifetime of experiences? How does one replicate beauty?
Angkor Wat is itself a physical representation of memory.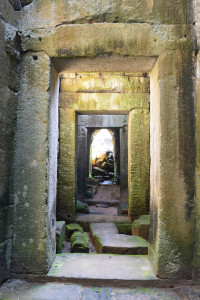 Scattered through the countryside, built by various rulers over hundreds of years, each temple is in its own state of perpetual decay. Entire sections have been devoured by the jungle. Trees envelop the structures, their tops scraping the sky as their roots patiently work their way down through the stone foundation. Like memory, some areas are crisp and clear, intricate engravings intact. Other parts are well worn, re-visited and kept up through centuries of use. Most of the temples are truly in ruins, consumed by the earth, having long lost their form. Arches have caved in, passageways blocked by large stones toppled atop one another filling entire rooms or courtyards. The general outlines and architectural plans can be reconstructed, but not the living temple. Even the crowds have their place in this analogy, providing the constant interruptions that interfere with the recollection process. Can you take our picture? Yes. How about a group shot, too? OK. 3, 2, 1 smile. Perfect. Here you go. Now where was I? Whereas some memories are resplendent, others are foggy and inaccessible, the constant diversions of the mind obstructing their retrieval. There I lead myself, alone at sunrise, wandering through a jungle maze intending to traveling back in time. I walked the long, dark arcades and skirted a single 2×4 blocking the path up 900 year old steps to gain access to a familiar vantage point in time for dawn, looking for Dad.
Two of the greatest gifts my father gave to all his children were a sense of wanderlust and a genuine curiosity and desire to connect with people from all walks of life. Our time in Cambodia was marked by vulnerability and resolve, steeped in memories but also embracing our future. Staffan and I spent as much time reminiscing about our childhoods and the giant figures of those narratives as blueprinting our next steps forward. Although shy of crafting an actual manifesto, we connected on many levels, accepting that life will continue to be a roller coaster, but aligning on similar ideals, aspiring to live a life with purpose that will be unencumbered by regrets, and seeking beauty along the way.
So, the Velveteen Rabbit. He is loved, which allows him to become real. He is forgotten, which ultimately sets him free.