Remembering India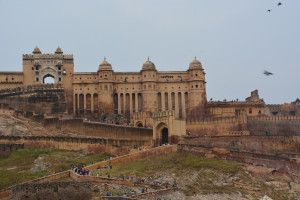 Staffan: Name all the things you find here that are different from home.
Eilir and Phineas in unison: Tuk-tuks!
Phineas: Boys and men wearing dresses
Eilir: And the women wear strange dresses with different lines and lots of colors.
Phineas: They're cool—hoodie dresses!
Eilir: Some of them are all black, with only small slits for eyes. Why is that?
Phineas: Are they Ninjas?
Eilir, in a scared squeal: Ninjas?!? Ohhh no. Real ninjas?
Alexis: No.  Ninjas can move swiftly and scale walls, taking out small throwing stars from the folds of their dresses.  The women here are wearing burkhas, as part of a religious tradition.
Eilir: I'm scared of ninjas.
Alexis: Don't be scared of ninjas or of different traditional costumes, its what makes the world diverse and interesting.
Phineas: Isn't it really hot to wear all black?
Alexis: Yes, but some people don't have a choice.  I wear all black for different reasons.
Staffan, not pleased with the direction of this discussion, interjects: what else is different?
Phineas: People walk barfota (barefoot).
Eilir: There are lots of homeless people, right?
Phineas: And homeless cows!
Eilir: Elephants and camels, all dressed up
Phineas: Monkeys with black faces and red faces
Eilir: Tractors that are not at the farm!
Phineas: The letters are different, too
Eilir, quietly: tail people
Phineas: What?
Eilir: Tail people. People with tails.
Phineas: You saw that?
Eilir: yes.
The kids have enough sensory impressions from India to last a lifetime, some I am sure they will actually store as memories, even as young as they are. It's hard to capture their observations: most come out unexpectedly days or weeks after an event, leaving us bewildered at the nuances they absorbed or the sights that stuck with them or simply left them confused.  There's always a fair amount of imagination at play as well.
Day to day India with small kids was not easy by any stretch. We made the best of it in Jaipur, where after we visited an amazing astrological garden (uncharacteristically doling out gummy bears at each instrument to keep the kids in check), we rode elephants up the steep cobblestone path to the Amber fort, something we'd never have done as adults alone. We did spend much of our time in India negotiating, although not with the locals as we had expected, rather with our own kids! For every monument there was a promise note given for something fun, like block printing or cooking class at the Oberoi. For every meal of naan, chutneys and curry eaten out in a small local restaurant, there were comfort foods promised back at the hotel for the next. Sitting here on the beach in Sri Lanka, we grow fonder of our time in India in retrospect, letting the toughest hours gracefully slip away while cherishing the exciting and colorful ones, a cathartic process that is characteristic of most all journeys taken.