The Skeleton Coast and Damaraland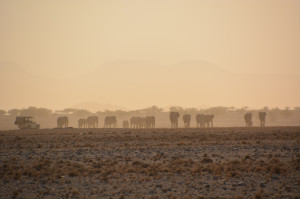 We drove north from Sossusvlei and out to the Atlantic coast, passing the Tropic of Capricorn, to spend a couple of nights in Swakopmund, the second largest town in Namibia. Industrial buildings sit among small golden sand dunes in the land surrounding the town. The town itself is a bit like a Disney rendition of a german village. We stayed at a guesthouse, Alternative Space, that was designed by its owner, a 17-year transplanted architect from Germany to Namibia. The guesthouse resembled a castle, but had no corners or straight walls. The interior courtyard was full of treasures and sculptures made from rusted metal and debris found in the dunes. We played our part in this fantasy town, donning Batman and Fairy outfits and transforming our environment into a world that best fits a child's imagination. All in all, we left Swakopmund a little confused about what transpires there, and pretty sure we would never return.
Straight up the cost from Swakopmund is the Skeleton Coast, named so because of the huge numbers of boats that are shipwrecked along its dune filled shores. We stopped to view a wreck, only to be offered rough gems from some Angolan sirens who were hiding in the nearby dunes. They were very hungry, so we gave them half our rations for the drive, consisting of a few bananas, apples, and water.
Heading Northeast back into the desert, we approached Damaraland, a region with many small mountains that appear to be made of red clay boulders, precariously perched upon each other. The vistas were vast; the vegetation consists mainly of low shrubbery and desert plants. Every 20km or so we would see signs of habitation either along the road or tucked into the base of the boulderous hills. The local housing is constructed mainly of old 1x1m metal pieces of varied colors and oxidation levels, stitched together to make sheet metal siding. The roofs are typically made of thatch, but sometimes also of metal. The floors must be primarily of clay and mud. Most dwellings have a front porch area that is defined by fences made loosely of sticks. Pens to house goats are made in the same fashion a ways away from the homes. We did see some more traditional housing as well in the more remote areas: small, round huts made of mud with thatched roofs, as well as a spotting of newer construction with cinderblocks among the metal&thatch. The standard mode of transportation within these rural villages is carts pulled by 3-4 donkeys. This may work even better on the gravel roads than the 4×4 SUVs rented by the tourists.
Some facts about Namibia to set a better context:
The population is ~2.1M inhabitants with a population density: 2.1 people/km2. 2/3 the people live in the countryside, with Windhoek being the only city (pop.234,000).

40% of the country's population is under 15 years old. The birth rate is 2.6%, and is declining as does the average life expectancy, which is now 49 years as compared with 61 in 1991 due to the impact of HIV/AIDS.

Unemployment: 33% (taking into account those eligible for and seeking gainful employment)

9/10 rural families cook outside their homes on wood burning fires

36% of rural household have piped water. ¼ people have to walk 500m to get water, 1/8 have to walk over 1km
We stopped at some of the villages to buy water and ended up giving out quite a few of the solar lights to women and children we met. Their excitement at learning how to re-charge and operate the lights brought us pure joy and a keen sense of the luck we have had in our lives. Many of the people we met asked for food and water as well: our kids could not really understand this concept, even as it was right before them.
Our final destination of the day's drive was Damaraland, the land of the desert adapted elephant. Staffan did not fail us as our wildlife spotter: just 10km before reaching our lodge, Staffan spotted a large family group of elephant making their way across a dusty plain. There were many baby elephants tramping along with the group: we learned later that they are about 1 month old. The next day, we headed out on a desert safari with a guide from the lodge. Eilir, refusing to don the obligatory khaki of safari, bedazzled the elephants with her rainbow sequin headband. We made two sacrificial offerings to the desert: princess Belle and an Iron Man transformer. Phineas and Eilir had not noticed that the last row in the jeep had no floor. A lesson learned, but not without some tears. Putting this loss in context of what they actually have was impossible.
At the lodge, Doro Nawas (a Wilderness eco camp), we were welcomed with damp towels to wipe the dust from our faces, and given cool elderberry juice on ice. Our accommodation was grand: two thatched roof huts with luxurious beds, fine linens, and spacious washrooms with indoor and outdoor showers. The two were connected with a raised wooden walkway. The beds were on wheels so that one may pull them out onto the terrace in the evenings to sleep under the stars. Staffan gave me a remedial lesson on the milky way, and we stared back in time into space in the most quiet of all nights for our 8th wedding anniversary.