South Africa's Napa Valley: Stellenbosch and Franschhoek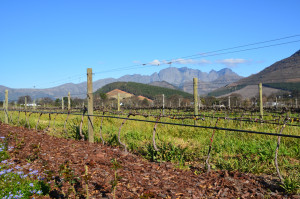 We departed Cape Town excited to continue on to South Africa's famous wine regions. Already very surprised and impressed with South Africa's gastronomic delights, we had high hopes for the wine district and we were not to be disappointed. The Cape Winelands are located just outside of Cape Town to the north and east, in a beautiful landscape of dramatic mountain peaks and lush, green valleys. It took us only about 40 minutes to reach Stellenbosch, the most well-known of the towns in the Winelands. Stellenbosch, together with the larger Paarl to the north and the smaller and quieter Franschhoek further east, form the Axis of South African Wine. Stellenbosch is a quaint town with a beautiful old town center full of Cape Dutch architecture, shops, cafes, and restaurants. It was too early for lunch (unfortunately, since several places looked very tempting) but we went for a short walk and stopped at a cafe for a quick espresso before continuing on towards the wineries.
We had put a somewhat limited effort into researching which wineries to visit. I had two places on my shortlist: Ken Forrester and De Trafford. Both places turned out to be a little too far outside of Stellenbosch in the wrong direction to fit into our plans. Instead we went to three semi-randomly selected places that all delivered above expectations. First stop was Tokara located in the Helshoogte pass between Stellenbosch and Franschhoek. It is a beautiful, modern winery with an attached restaurant and breathtaking views. The lineup of wines was good, but a little too predictable to leave a lasting impression. They offered a couple of Sauvignon Blancs, a couple of Chardonnays (one with and one without oak), and a few reds (Shiraz and blends). Well-made wines, but something more eclectic and unique would have been fun. The winery itself was actually more impressive than the wines: the tasting room is attached to the wine-production facilities separated by floor-to-ceiling windows so that one can admire the rows of stainless steel tanks and oak barrels while sampling the wines. We enjoyed the wines and the winery as long as Phineas and Eilir's patience lasted. Before continuing towards Franschhoek we decided to check out the Tokara Deli located just down the road from the winery. This turned out to be an exceptional establishment. The architecture and the view were just as stunning as at the winery, but the deli also came with one of the coolest playgrounds any of us had seen. Phineas and Eilir were ecstatic and Alexis and I could finally sit down and have some coffee and talk to each other. We spent a couple of hours at the Deli relaxing, watching the kids play, and enjoyed the best sour-dough baguette that I have tasted in many years. Highly recommended!
We spent the night in an old Dutch homestead converted to guesthouse/farm, halfway between Stellenbosch and Franschhoek. The place, called Lekkerwijn (= Läckert vin = Delicious wine), was built in the 1700's and had been continuously occupied ever since. It had a thatched roof, a beautiful interior courtyard, and charming rooms, each decorated in its own rustic style. The manager gave us an unhurried tour that included stopping to visit with the various animals on the farm, including pigs, goats, horses, and a rabbit couple that had just given birth hours before we arrived. Phineas' and Eilir's favorites were the (wild) peacocks, closely followed by the pigs.
After breakfast the following morning, we stopped at the winery next door to the guesthouse, called Solms Delta after some Dutch person named "Solms" who apparently was instrumental in establishing the wine industry in what was then called "the delta". The winery and tasting room were housed in an old Dutch farmhouse surrounded by the vineyards with the mountains as a dramatic backdrop. It was child-friendly and predictably came with a gourmet restaurant.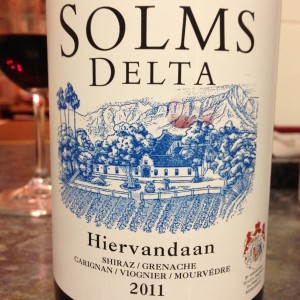 They offered some pretty cool wines made from some rather unusual grape combinations. Their entry-level white was a light and refreshing Chenin Blanc-Semillon-Riesling blend. Odd but tasty. They also had a quite good white blend made from Viognier, Roussanne, and Grenache Blanc that was fuller and richer. At first glance this grape combo seems to make sense as all three grapes are Rhône varieties, but they are from different subsections of the Rhône valley and would never be combined into the same wine there. It was tasty but perhaps with a touch too much oak. On the red side they offered a couple of Shirazes and Rhône-style blends, and a really odd blend of Pinotage (a South African speciality), Touriga Nacional (a Portuguese grape used in Port), Shiraz and Mourvedre (a Rhône-valley grape). A little weird but quite good. We bought a couple of bottles and moved on.
After Solms Delta we continued to La Motte in Franschhoek. La Motte appeared to be bigger and more commercial than both Tokara and Solms Delta. I am not 100% certain that this is the case, but the winery, the tasting room, and the obligatory gourmet restaurant, which combined old Dutch buildings with some very modern additions, certainly gave this impression. And we did indeed come across their wines at several restaurants and guesthouses between Cape Town and Jeffrey's Bay. The tasting room was dark and elegant, and other visitors were quietly sampling the different wines. The place felt rather formal and we were a tad concerned about how this would work with the kids. There was no reason for concern however, as the kids were given coloring books filled with pictures of vineyards, crayons, and fresh bread rolls with butter to munch on while we were sampling the wines. Just like Tokara the line-up was somewhat predictable: a couple of Sauvignon Blancs and a Chardonnay, followed by a Bordeaux-style blend, a 100% Cabernet Sauvignon, and a couple of Shiraz-based blends, but the quality was a step up compared to the other two places we had visited. We especially liked the entry-level Sauvignon Blanc made in classic New Zealand style full of citrus and passionfruit and with crisp acidity. And an amazing value at $6 per bottle! We also liked the dark, aromatic, fruit-forward Shiraz-Viognier, and the complex and spicy Shiraz-Grenache-Mourvedre. We picked up a couple of bottles and walked over to the restaurant. We had not heard or read anything about La Motte's restaurant before sitting down to eat, but once again we were positively surprised. We had intended to have a quick, light lunch, but after looking at the menu it was clear that this was not going to be possible. We had to do appetizer, main course, and dessert, with a glass of La Motte sparkling wine to go with the meal. In between courses, the kids did some watercoloring, played chess at a life-size chessboard, and ran around exploring the gardens. It was amazing to be able to enjoy the fantastic food and not have to worry about the kids either being bored or bothering other guests. Some of the more memorable dishes were a savory but light and perfectly balanced warthog and chicken terrine with onion marmalade and yoghurt blanc mange, and a rich main course consisting of impala and saffron dumplings with parsnip. There was also an amazing dessert that was so good I forgot to make a note of what it was called (it was something with "nostalgia"). It was a sampler plate with, among other things, the most perfect vanilla and coffee ice creams, a perfectly chewy spherical bread pudding, and crepes rolled into cute little cylinders. We were in heaven! As were Phineas and Eilir as they were trying to figure out what to do with the rather large amount of chocolate sauce that was served with a rather small dollop of vanilla ice cream. We left Franschhoek very satisfied, very full, and very late for our 6-hour drive to Victoria Bay.
So what is our over-all impression of South African wines? It is of course difficult to say something general based on such a limited sampling, but the over-all quality seem to be high and we did try some very tasty wines. The reds that we had were all made in a modern, fruit-forward style, but the wines had sufficient acidity to balance all the fruit and taste fresh. A problem with cheaper Australian or Californian wines can sometimes be too high alcohol combined with over-ripe, "raisiny" fruit, and not enough acidity. The South African wines that we tried did not suffer from this problem. These wines are even more impressive when price is taken into account. One would have to pay three times as much for equal quality from France or California. We came across many very good wines that could be had for less than $10, and it was difficult to find a bottle priced above $50. I was not as impressed with the whites as with the reds. The most widely planted white grape in South Africa is Chenin Blanc, something that I was very excited about before the trip. Chenin Blanc is used in some of the great wines of the Loire valley in France, such as Vouvray and Quarts de Chaume, which happen to be some of my personal favorites. I was disappointed to not come across any real noteworthy Chenin Blancs here. We had a few tasty examples, such as the rich, full-bodied Jean Daneel Signature Chenin Blanc 2011 that we had in a restaurant in Cape Town. But I did not try anything that came close to the structure, complexity, and minerality of the best French white wines. Also, many of the South African producers seem to be more interested in making Chardonnay and Sauvignon Blanc, which I am not sure that the world needs more of, even if it is well made. I think it would be cool if more producers here tried to make more unique wines that are distinctly South African. But as I said, we have had many very good wines over the past couple of weeks, and the over-all quality of South African wine seem to be very high. We have had a fantastic time and we will definitely come back (when the kids are old enough so that we can go to some of the fine-dining establishments that we had to skip on this trip).