Cape Town: The Southern Suburbs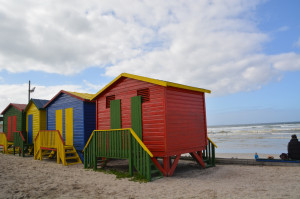 We picked up a car our first weekend to get a better sense of the place. A great move: right outside the city are drives as stunning as the PCH in Big Sur replete with small beach/surfing towns akin to North County San Diego.
All this nature/city/wine/design/surfing packed into such a small area: it is no wonder this area has attracted so many foreigners to settle over the centuries! That said, we learn at every turn that all of South Africa is currently experiencing a "brain drain" with many professionals, artists, and highly skilled labour emigrating out of the country. Staffan and I both feel the we could easily live in this landscape, climate, and culture. It's hard to imagine we have not visited before, or toyed with the idea of living here. Our drive down the coast through Seapoint, Clifton, and Camps Bay was dramatic, with a 20 foot open ocean swell rolling in. We were met with a persistent rain, oscillating between drizzle and downpour, but we thoroughly enjoyed the escape and felt at home, knowing we would be able to truly relax here.
The next day we ventured further afield. We drove South through the vast townships to the surfing coast- Muizenberg Beach, Kalk Bay, Simon's town, and Boulders. There were waves, surf schools, and black flags raised with the outline of a white shark: warning flags, we presumed. Since I currently too closely resemble a seal, I am opting out of the surfing in South Africa, as these are known to be the sharkiest waters of all, with many, many great whites prowling the waters close to shore.
We checked out a number of surf shops before finding a surf board for Staffan, and after a quick surf, continued our drive through the scenic fishing village of Kalk Bay, where the surfspot Dangers was barrelling and crashing behind the coastal train. A little ways down the coast lies Simon's town, where one can visit the 3rd largest colony of African penguins (2800 in all) at Boulders beach. We enjoyed the stroll along the boardwalk there, but it was definitely highly touristed. Luckily, I had recently watched a documentary on penguins aboard some Air China flight so I felt well informed and tried to press my penguin knowledge on to the kids, who were summarily unimpressed. They were fascinated with the penguin nests and could readily replicate the penguin gait. Oddly enough, I'd say the penguins rated higher than the lions in capturing their interest and attention.
To wrap up the tour of the Cape peninsula, we drove down the coast and took the Chapman's Peak drive: yet another stunning example of the scenery with enormous sheer cliffs dropping into the Indian Ocean. We also visited Groote Constantia, the oldest winery in the Cape, started in the 1800s when some French Protestants were exiled from France. They brought with them great wine making skills and within a few years of settling in South African territories were up and producing wines. More to come in the Wine District section…